Una sabi say Sunderland wakka come Old Trafford Today, Manchester United knack dem apako 3-0.
Manchester United no play ball at all first half, but luck con shine small as Daley Blind play better cross wey find Mata. Mata con do assist for Memphis wey score goal. Second half make sense sha, we play ball die, Rooney and Mata score.
As Manchester United win match, we don dey top league, onto say Tottenham knack Man City apako today (4-1).  Some Players don sharply yarn ontop the matter, as e dey hot.
Post Match Tori:
Louis Van Gaal: "E sweet me die when we knack dem d 3rd goal onto say We ball dem die na. We score goals wey make sense, E sweet my belle. Result wey make brain, Na we dey Top League now."
Antonio Valencia: "E make sense as we join body play better ball today. Now na to dey reason Wednesday match."
Van Gaal talk say e no consign am ontop who score for #MUFC: "If we knack Wolfsburg apako and na De Gea wey score, e go sweet me."
Blind Daley: "Na important match wey we win so, We gots full ground Gidigba till Season end
Phil Jones: "Result wey dey important, Another 3 points wey make brain! #MUFC"
marcosrojo: "E sweet me for una matter, Una sabi play ball ahan!! #RojonaRed #MUFC #PremierLeague"
David De Gea: "We dey add! We just dey collect 3 points dey go, we full ground die 2day. I thank una 4 support @ManUtd"
juan mata: "Today na Happy day o, Make we dey jolly @ManUtd
Wayne Rooney ontop say we dey Top League: "Na wetin we dey play for na. We gots work hard onto say we go like remain for there."
Match Tori:
AS E DEY HOT: De Gea; Valencia, Smalling, Blind, Darmian; Schneiderlin, Carrick; Mata, Rooney, Memphis; Martial.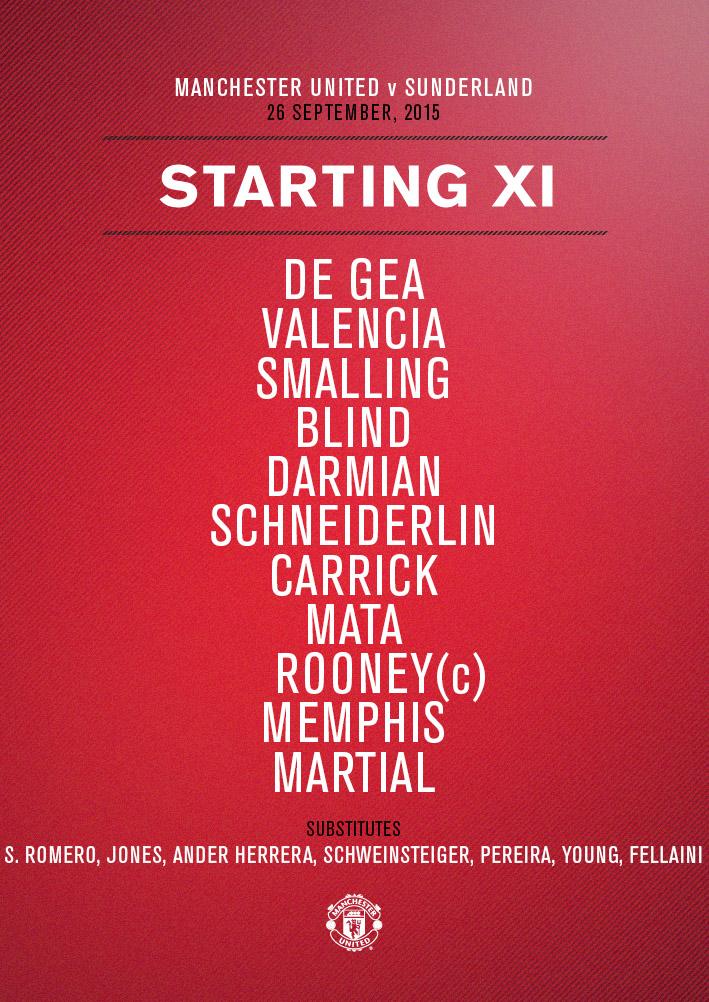 Dose wey dey warm Bench: Romero, Jones, Herrera, Schweinsteiger, Pereira, Young, Fellaini.
Darmian dey play Left-Back, Antonio Valencia dey play Right-back
First Half:
5MINS: E remain small #MUFC for score, Darmian crosss better ball, Martial head am, but e no do am well. chaii
10 mins: E remain small John O'shea for us. De Gea catch am.
14 Mins: See better shot wey Mata play, e for be goal, Person block am enter corner kick.
Rooney use skill commot person, e run. Cross, Person block am, ball waka go meet Memphis. E con shoot, Keeper punch am enta corner
GOOOOOOOOOOOOOOOOOOOOOAAAAAAAL MEMPHIS!!!!!!!!!!!!! #MUFC
Daley Blind collect ball, e con sight Mata, con cross mad ball wey Mata hit one time.. Memphis con runnn hit am enter net. Goal
Half-Time
2nd Half
GOOOOOOOOOOOOAAAAAAAAAAL ROONEY!!!!!!!!!!!!
Mata pass give Martial, e con carry ball run, Defenders no fit mark am, e con cross give Rooney wey use hin whole body score am.
53mins: E remain small dem for score us, De Gea shine eye, chook leg. Number One!!!
61 mins: Dey wan score, their player carry ball run enter our defence, e con shoot. De Gea use leg commot am…
Baba Schwein don enter, Carrick don wakka enter bench.
72 mins: Daley Blind don wakka commot, Phil Jones, don enter.
Young don wakka enter, Memphis don commot.
78 mins: Rooney n Young do better One two… Rooney con use vision sight Mata, Mata SHOOTTTT, Keeper punch am enter corner.
87mins: Ashley Young send person go message, e con cross, Rooney wan use skill score. Defender read am.
GOOOOOOOOOAAAAAAAAL JUAN MATA!!!!
Ashley Young carry ball, worry person sote person frustrate,e con cross ball wey reach Mata. Mata use vess play shot. Goal.
Full-Time