After wetin be like one very long weekend on to the akpako wey Chelsea agbero boys knack us, we all don know say as fans of the biggest club for England, our body no go take another knacking. Wetin go even make am worse na if na our "face me,i face you" neighbors come knack us again.
I believe say no this one be one of the reasons wey Mourinho apply sense for him selection cos him self sabi say e no go good make trailer jam person two times before he even recover from the first one.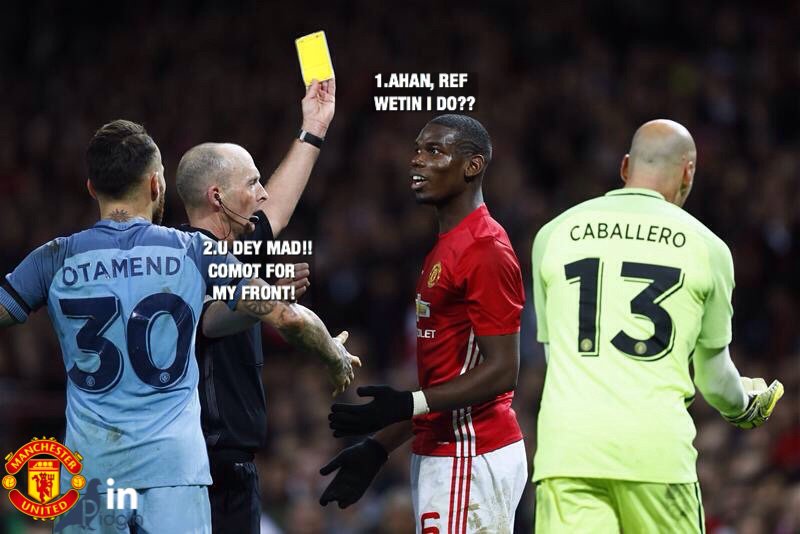 The match go well and we thank God say we win. The truth be say the match show say Mata na good luck for our team. And the Carrick -Pogba combination dey good for us.
All the players put body for the game,although some no put everything but all in all we thank God say people wey don dey wait for bus-stop to yab us,na trek dem trek go house last-last.
Na the players report be this, make una enjoy am.
DeGea: he no really get plenty to do for the game as ManCity no even get one single shot on target for the match. In fact ehn, him main highlight wey i see na that sweet pass wey he give Rashford wey referee blow off-side for. I give am 6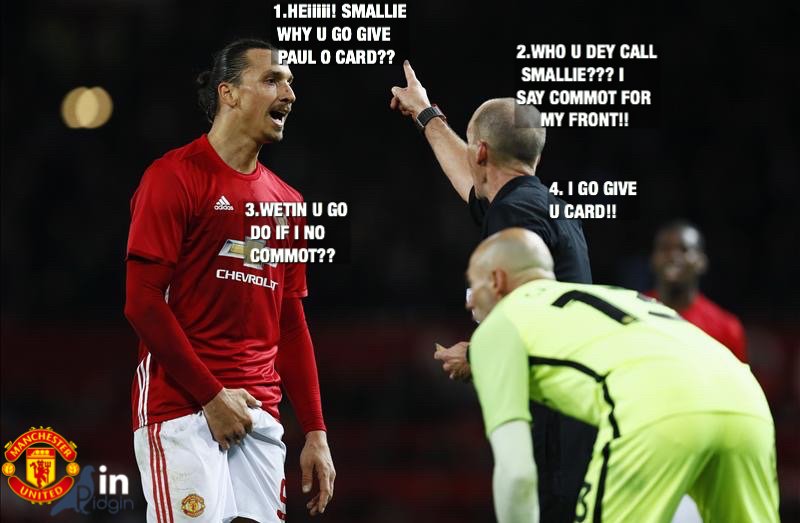 Valencia: he play well as he defend and even though he no too go front when he go he use sense. I give am 6
Shaw: after that first time wey Navas beat am take do pass for Kelechi, he buckle up and he make sure say he no give am another chance again especially for the second half. I give am 6
Rojo: as Bailly and Smalling no play, i don dey fear already say na Rojo go do Promo fo ManCity but he shock me as he pocket Iheanacho for the match. We need to know which soap he use baff before the match so he go continue dey use am. I give am 7
Blind: he play well as he follow hold defence even though he no play him normal left side as na right Baba Special put am. I give am 6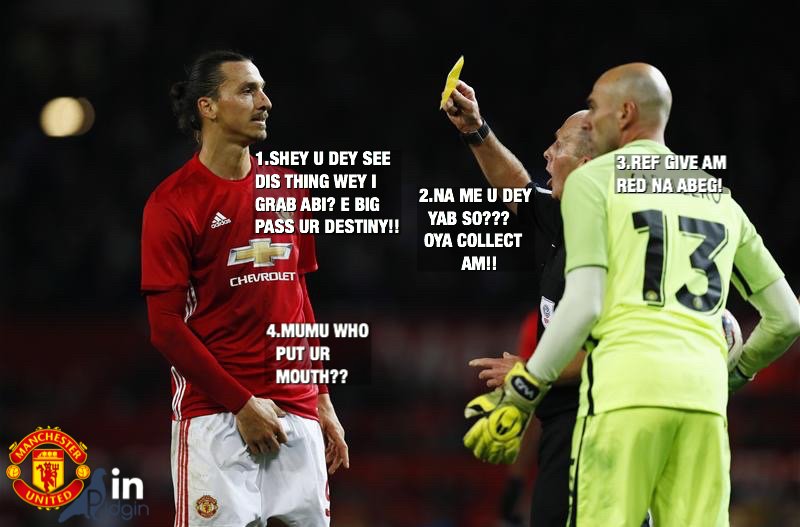 Carrick: he compose and balance the midfield. I believe say him combination for the midfield na wetin we need. I give am 7
Herrera: him ginger no get part two. Na everywhere for field he touch ,he mark well (we all see the "chop agege" wey he give Fernando) and he really push the team forward every time. Na my man of the match and I give am 7
Pogba: he suppose tear net but he miss am. He still play well sha as he follow hold the midfield well and i give am 6.
Mata: he do some better passes and he position himself well to score the only goal for the match. Even though dem change am for second half, he don already do him best for the team. I give am 7
Rashford: he really pepper their defence, he give them plenty wahala and carry them run around. E pain me say he no tear net. I give am 7
Ibrahimovic: he lose ball well plenty times and he slow the game down(even though e no worse reach Chelsea game own) but at least he still create chances and na him ginger bring goal. I give am 6
Substitutes:
Schneiderlin: na work wey Mourinho send am e do. Lock the midfield. Him and Pogba carry some French connection take waste time for touch line self. I give am 6
Lingard: he gallop up and down. I give am 5
As e be now, we don advance forward and na West Ham wey hammer agbero boys we go play next for the EFL cup. But this weekend, our next match na with Burnley. I pray make we make them Burn well. Until the next game again, make we remember say #UNITEDWESTAND