If only we fit dey play Swansea every week or if to say na dem we don play throughout this season, sebi we for dey top table by now. But as e no fit happen na make we try keep up with this kind game wey we play hem today.
I swear as i see the team sheet na so i begin curse Mourinho. I dey wonder which kain formation be dis and the players wey he carry put all na wahala as we all sabi say dem slow pass snail. Wetin make me fear pass be say he no dey bench as he dey serve suspension so how he go fit quick influence the team be my own problem.
Last-last, na coach know pass as e show say he sabi wetin he dey do. Truth be say if to say we lose or draw this match again ,wahala for dey. Fans don already dey para and bad belle rivals self don already dey laff us. The match dey composed well but the only thing wey i no like about am na as we no push to score more goals. The players go reach Swansea door and then dem go come pass ball back go give De Gea. We suppose kill the game finish and score as many goals as we for fit. Every time wey i remember the season wey we lose league because of goal difference i dey always shout make we score as many as we fit.
Na the players report card be dis, make una enjoy am
DeGea: he no really do anything cos na like half field we play them until second half wey dem ginger small. The goal wey he chop no be him fault. All in all i go give am 6
Young: he really play well for the defence wey dem put am. He no let Montero get too much space. I give am 6
Jones: na him first game after him injury be this. He try well and with more games he go settle back well. I give am 5.
Rojo: he no allow any yama-yama for defence but i no too happy because na him be captain of 'passing back' to keeper. At least some time make you even surprise yourself go forward. I give am 6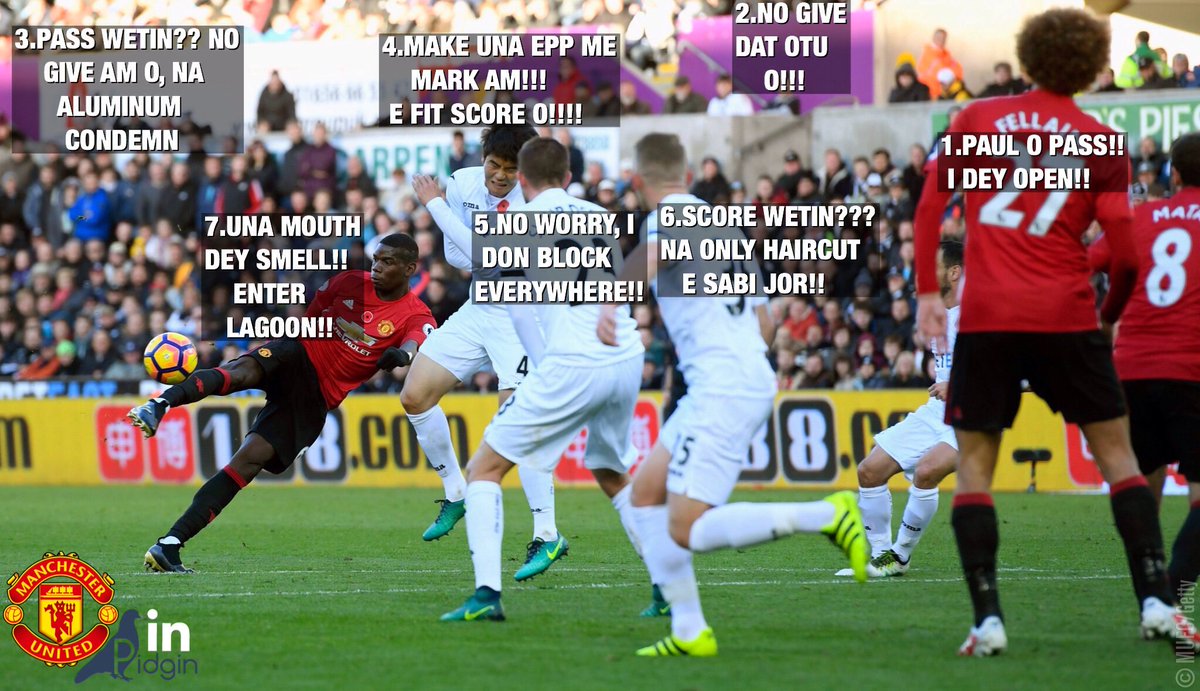 Darmian: he get good game as he follow ginger go front and disturb Swansea from the wing. I give am 6
Carrick: na him stabilise the game as na him dey dictate the pass and run. He balance well but i believe say na because the Swansea midfielders no rush am. I give am 7
Fellaini: na average performance he get as he no do anything special. i give am 5
Pogba: him goal too make sense.The only minus wey i go give am na as he follow dem dey play the back passing when i expect am to use this match gather goal/assist. I give am 7
Mata: he no too loud himself for the game. Na just him normal passes but dem dey very effective. I give am 6
Rooney: he get 2 assists but i still believe say he need do more. If we play against any strong team and na wetin he play be this i know say we all go say na rubbish. But as per today game, I give am 7
Ibrahimovic: him two goals dey good for am but i no know why he collect that yellow card. He go miss the Arsenal game but for today game, i give am 7.
Substitutes:
Lingard: he follow Pogba exchange some pass for touch line. Nothing special, i give am 5
Schneiderlin: he do the job wey Mourinho send am. He enter to lock the midfield and hold the ball. I give am 5
Fosu-Mensah: he enter late so no time to judge am, but i for like when he get the ball wey he dey run he for dey more purposeful and try to even reach their box.
Anyway, na the players report be that. Now na to dey wait for the next game even though we know say this weekend na International break so na till upper weekend before we get any other game.
Bad as e bad,all win na win make we enjoy this 3 points first. Until our next game, make we remember say #UNITEDWESTAND