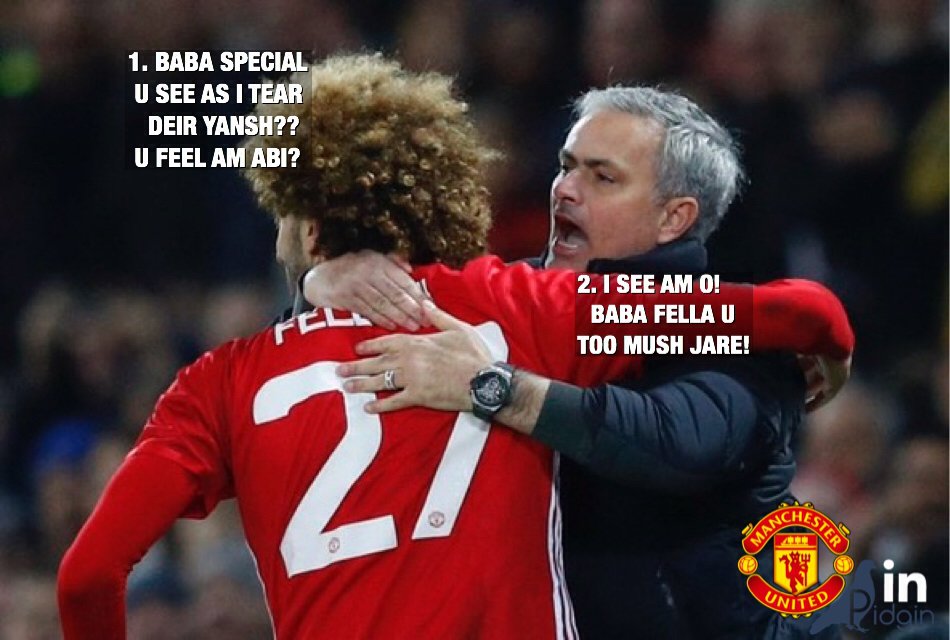 Tonight na good night for Manchester United fans as The Red Devils knack Hull City 2-0 for the EFL Cup semi-final first leg. The match bin happen for Old Trafford as the Reds Captain Wayne Rooney bin dey hope say e go fit pass Sir Bobby Charlton's record by scoring one goal, so e fit make am 250 goals, but e no fit tear net. The people wey score for the Reds na Juan Ikeji and Maroune Fellaini (Iroko Tree). As everything be now, Jose Mourinho's men don step one leg inside the EFL Cup final wey fit happen against Liverpool/Southampton.
We sharply wan talk about the five things wey we observe for the match:
The first thing wey we observe na say Manchester United no too play well for the match, na average performance but the koko na say dem fit score two goals against Hull City, and dem keep clean sheet. E mean say the Reds go dey in the driving seat, when dem two wakka enter Hull City Stadium for the second leg.
The second thing wey we observe na say Paul Pogba sabi fling passes ehn.. The way the guy just dey fling passes dey go front ehn, and almost all of dem dey accurate. E remain small, i for think say Paul Scholes dey field self. Baba just dey distribute the passes the go. The guy bin link up wella with Ander Herrera too and e remain small e for score but the Free-kick wey e play knack side post. O Boi, Fashi say the money wey United pay for am dey big, e worth every penny.
Another thing wey we observe na say the confidence in the Manchester United camp don dey increase sote dem don win nine matches in a row. The last time wey dem achieve this kind thing, Cristiano Ronaldo still dey United. Na good sign, say the future dey bright for the Reds. E also show say Jose Mourinho dey lead Manchester United in the right direction. We just dey hope say we go fit knack Liverpool on Sunday, so our winning streak record go continue.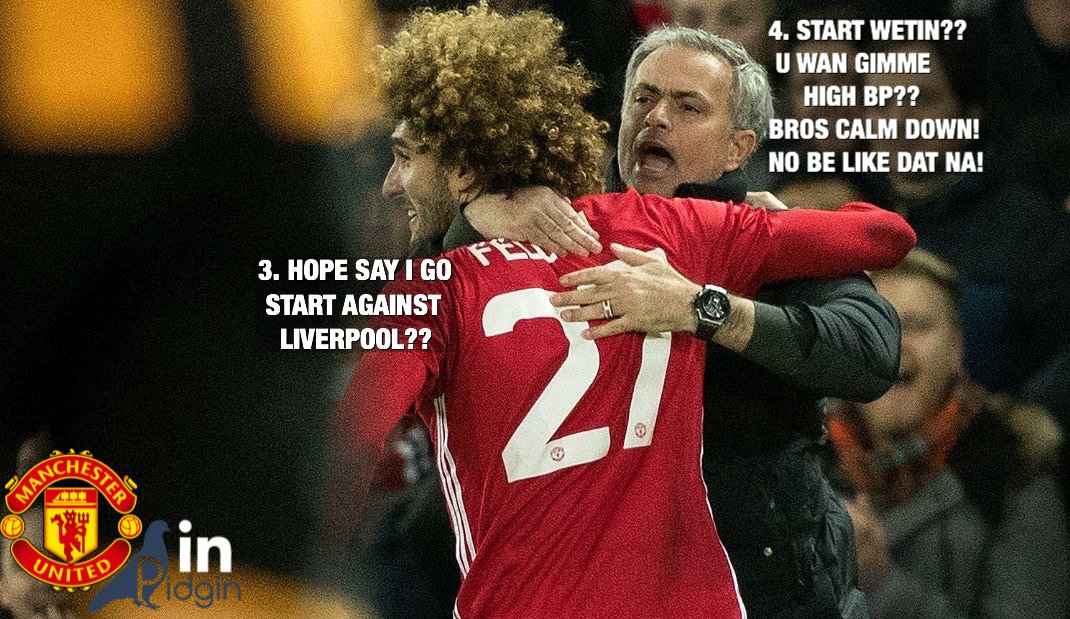 Another thing wey we observe na say Maroune Fellaini na average player, but e dey work hard and na why every manager wey come Old Trafford, dey like am. See as Schneiderlin wey get plenty talent no ginger at all, all the chances wey e see, e no utilize am. But this Baba Fella ehn, when everybody don commot mind for hin side, dem go put am and e go do better thing. The last match wey United play against Reading, e try and tonight, God don reward am with a goal. As e score, e run go hug Jose Mourinho onto say Jose still believe in am, upon say na him make us draw against Everton.
The last thing wey we observe na say the Red Devils players gots work on their shooting. Na so so 'Over the bar' wey most of their shots go tonight and dem just dey do am turn by turn (Pogba, Rasford, Herrera, Valencia, Mkhitaryan etc). Jose Mourinho gots organise session for dem, so dem go practice how to tear net. Another day, those misses fit cost us vital points/victory.