All men don dey jolly for bear parlor after Manchester United knack Tottenham for Wembley Stadium. Jose Mourinho don humble the great Pochettino, wey all pundits bin dey praise before the semi-final clash. Right now, Jose Mourinho's men dey FA Cup final, dey wait the team wey go win between Chelsea and Southampton.
We wan sharply
do players' report card:
David de Gea: E no make any save today. The only balls wey e catch, na the simple shots wey dem play. For the second half, if say e get bed self, e for use am as nobody test am. I go rate am 5. 
Ashley Young: Na him wey cause the goal wey Spurs score. E overlap and e no return. E no epp for attack and e struggle for first half. E improve for second half sha. I go rate am 4.
Antonio Valencia: E no epp for attack but e no do mistake for back. E epp defensively so i go give am 5.
Chris Smalling: This guy impress me. Hin combo with Jones make brain. The way dem take put Harry Kane for their pocket ehn. I go rate am 8
Phil Jones: This guy don dey improve. E show Kane say even if you be world class striker, i get your measurement for my pocket. I go rate am 8.
Ander Herrera: I no know the kind words i go use describe am. E ball fire. Hin winning goal na die. This guy dey everywhere for the match, from defensive duties to the work wey e do for attack. I go rate am 9.
Nemanja Matic: E bin provide cover for our defence and e no allow make Spurs worry us. Hin passes dey accurate. I go rate am 7.
Paul Pogba: E don silence all the people wey dey criticize am as e step up to the challenge. Na him wey carry Man United back into the game, with the way e take turn Dembele to tissue paper. I go rate am 10.
Alexis Sanchez: This guy don dey prove hin worth. E don dey rep the Number 7 jersey well. Hin goal make brain. Na him wey cause the move wey lead to United's second goal. I go also rate am 10.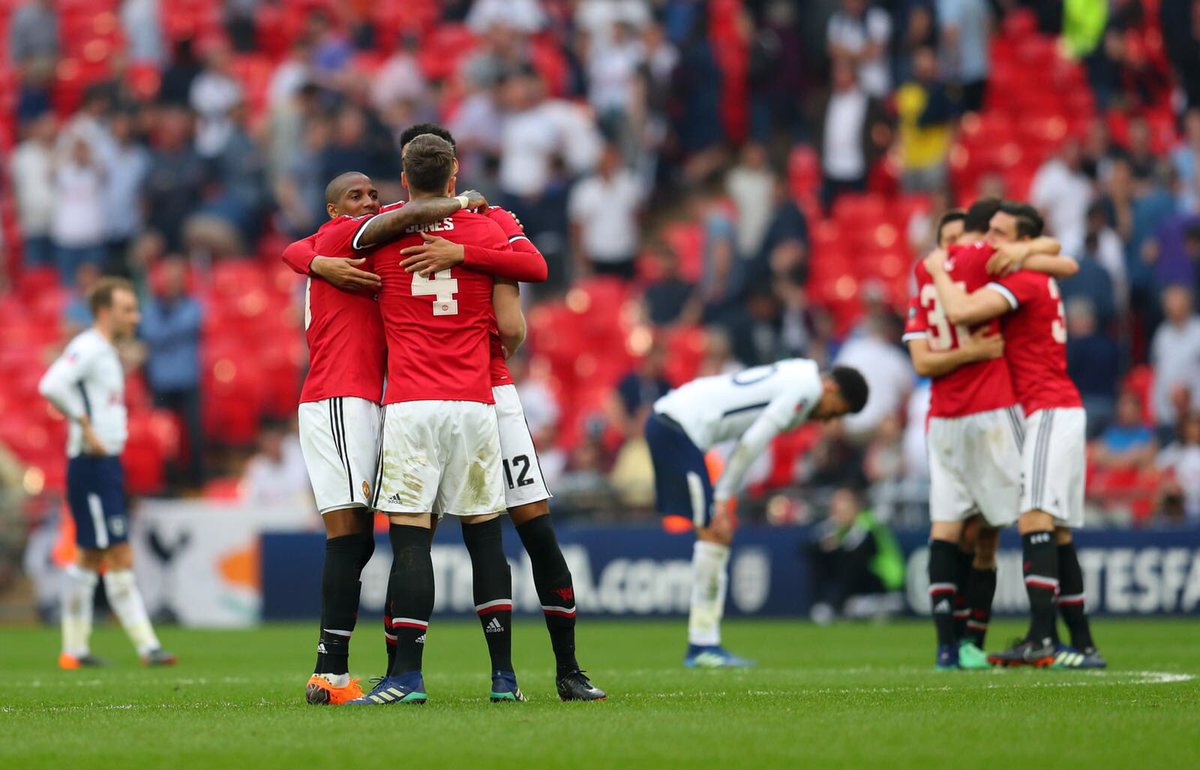 Jesse Lingard: E epp for attack as e manage worry Tottenham defenders. Na him wey epp Herrera score that goal, as e bin protect the ball from Spurs defenders before Herrera wipe am.E impress me. I go rate am 8
Romelu Lukaku: E fall my hand today small. E miss many big chances wey e suppose bury. Hin hold up play make brain sha. I go rate am 6.
Bench warmers
Marcus Rashford: I no sabi wetin dey hin mind when e dey pitch. The only thing wey e do na the 100 metres race wey e run before Ref give am yellow card for simulation. E no impact the game, but e enter late sha. I go rate am 5.
Matteo Darmian: E no put sand for our garri so i go rate am 5.
I no fit rate Fellaini as e no play for long.